Mods: What are they?
Mods are modifications about how the game appears:
HUD (Heads Up Display) that add additional informational elements on the screen
or works:
They can modify several number of things, like enemies type, number, speed etc.
Mods can be split into two major groups; Clientside, and Lua.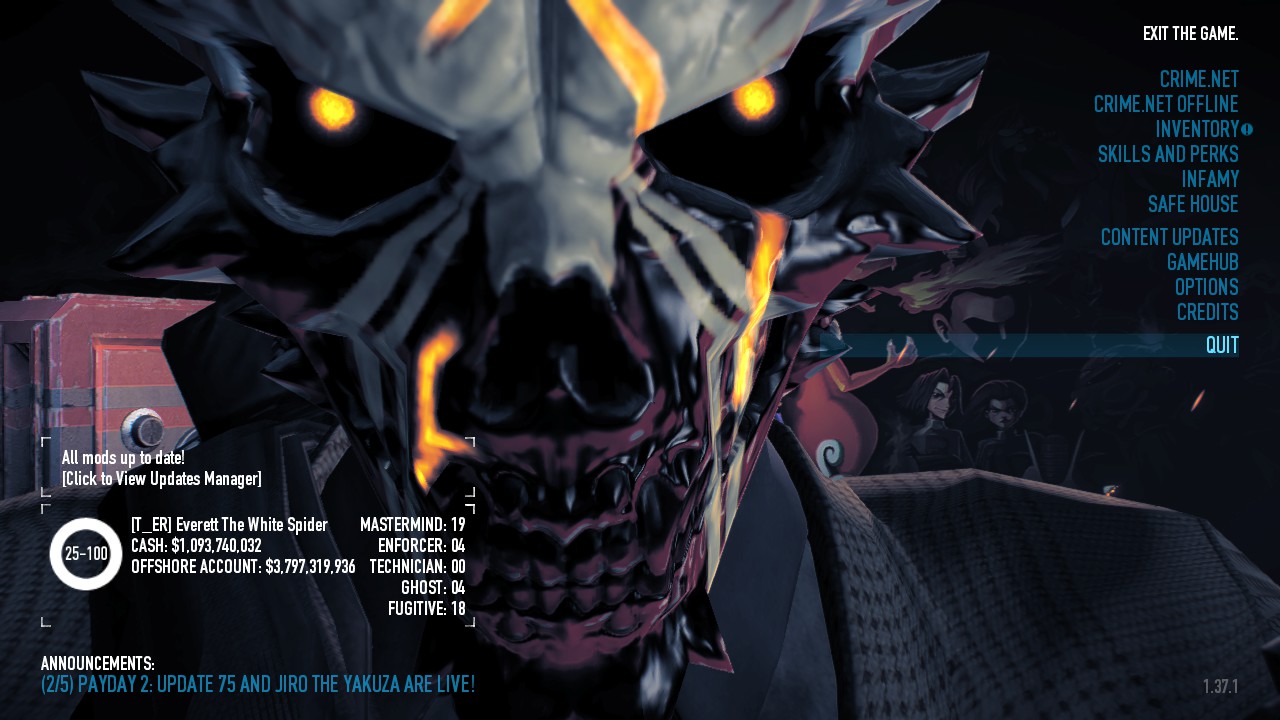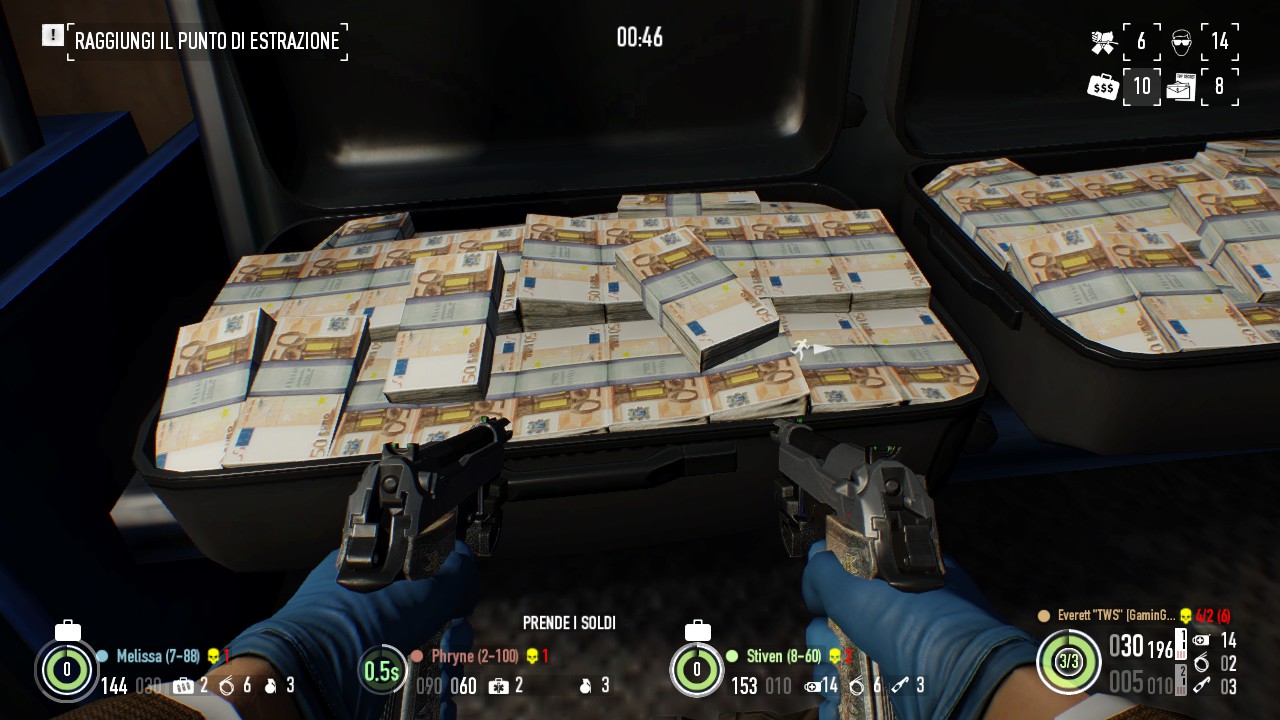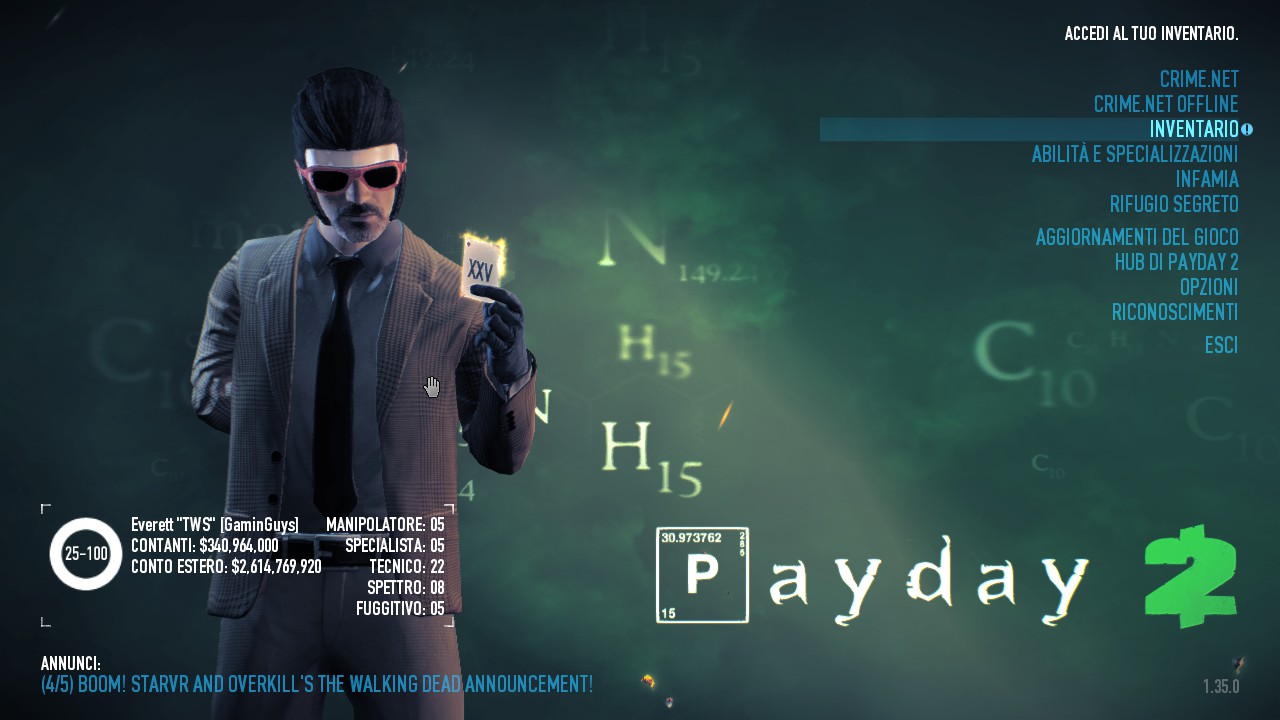 Clientside & LUA
ClientSide

 (/Mod_override) mods are generally safe to use in online play - they often have little (if any) impact on the experience of other users, and will be unnoticeable to other players.

The two most common types of clientside mod are texture and sound mods; these modify the textures or sounds of various objects, characters or environment. Only has an impact on the mod user's experience, even if said player is the host.

Such modifications have been unofficially supported by Overkill with the addition of the Mod Overrides system which allows the game to load unpacked assets from a special folder in place of archived files. This makes many simple mods significantly easier to use than they were before, though there are restrictions on the file types that can be loaded using this system in order to prevent malicious behaviour.



Lua

 'mods' utilize a 'hook' .dll and associated files to inject, overwrite, or append code to the Lua scripts used by the game itself, whilst the game is running. Many of these can be used to do abusive things, such as spawn lootbags or enemies, or make it so Special Enemies can be dominated and converted. It is important to note that gameplay-altering modifications such as these are considered cheating.

That said, it is worth keeping in mind that not all Lua-based modifications are considered gameplay-altering and some are considered to be safe for use. Many can be simple 'quality of life' tweaks (such as remembering gadget state between weapon swaps during a mission) or other minor adjustments that players may find helpful whilst having no impact on another player's experience. Care should still be taken, as a poorly-written script can easily cause the game to crash.
Where is "Payday 2" folder on my PC?
C
Program Files (x86)
Steam
SteamApps
PAYDAY 2
BLT
A Lua hook designed for ease of use for players, and modders alike.

Payday 2 BLT is a custom-made Lua hook for Payday 2.
It has been designed and built from the ground up to make the installation and configuration of mods as simple and painless as possible.
Features
Easy Installation


Just drop the BLT DLL and the accompanying "mods" folder into your Payday directory and you're good to go!


In-game Mod Manager


Manage which of your mods will be turned on the next time you launch your game, no more moving folders and deleting files.


Self Updating*


The BLT can update itself to automatically bring you the latest features and fixes, you don't have to lift a finger.


Automatic Updates*


All BLT mods can make use of our system to update your mods automatically the next time you launch Payday 2.


Customizable Keybinds


Keybinds added by mods can be changed in the options menu, so you can customize them to make them comfortable for you!


Menu Hooking


Mods can add new menus to your game so that you can customize them in-game, without having to change files outside of Payday.


Open Source


You can see what we're doing behind the scenes, and you can even help us develop the BLT further!


*All updates are optional


We check with you before downloading anything, and you can turn them off if you want to.



Requirements



The Payday 2 BLT requires a Windows computer running Windows 7 or later to work. You'll also need the x86 version of the 2013 Visual C++ Runtime. You can download it from Microsoft here[www.microsoft.com].



Download



The latest version of the BLT is available below:

If you want to view the source code to the Payday 2 BLT it's available on GitHub. You can also grab ready-to-go versions of older BLT releases from the Releases page, but they might not work anymore.
Payday 2 BLT on GitHub

[github.com]


GitHub Releases

[github.com]





Installation



Hold it! Make sure you've installed the x86 2013 C++ Runtime before installing. If you don't, the BLT won't work, your game will crash, and you'll look like an idiot when asking for help because you didn't read the instructions.



Step 1 - Download



Download the BLT

[github.com]





Step 2 - Open your Payday 2 directory



You'll need to open your Payday 2 directory. If you know where your SteamApps are, then go to SteamApps/common/PAYDAY 2/.
Otherwise, right-click Payday 2 in Steam and select Properties. Choose the tab Local Files and click Browse Local Files to open explorer right to it.



Step 3 - Extract



Extract the IPHLPAPI.dll and mods/ folder to your PAYDAY 2 folder from your download, and you're done.



Step 4 - Installing Mods



BLT mods are installed by simply placing the mod folder into your mods folder.
So if you downloaded GoonMod, place the GoonMod folder into mods and you're good to go.

Payday 2 Bundle & Mod Tool
PAYDAY 2 Bundle Tool


The Bundle Tool is a small tool that has been officially approved by Overkill Software for technical use. The tool acts as a game file extractor, and as such will allow users to extract (or 'rip') game textures, sounds and models for modding use.



PAYDAY 2 Mod Tool


The Mod Tool is another Overkill approved tool that allows users to easily create and apply custom mods based on the contents extracted by the Bundle Tool. User-created mods are generally allowed in-game, so long as they don't affect gameplay aspects (a.k.a. cheats) as mentioned above. The current version is v1.15.



To install the .pdmod





1)

 Download the Bundle Modder

[modworkshop.net]

 from LB, link below.



2)

 Install and follow the on screen instructions to set up the bundle modder. Guides are available on the website if necessary



3)

 load the .pdmod into the bundle modder. as well as any other .pdmod files you would like, then install

The links to the downloads as well as modding instructions are here



Mod Overrides


Overkill working together with Last Bullet introduced another modding alternative by having a mod overrides folder allowing users to drag and drop mod folders into the mod overrides folder, it is used for mods that aren't .pdmod type. Mod Overrides isn't as versatile as .pdmod.
Types of "Installation"
Example:
"PokemonHUD" by LastBullet
This HUD has 2 types of "installation"

1- 

Mod_overrides Installation


Put the 'PokemonHUD mod_overrides' folder into your mod overrides folder in
Steam > SteamApps > Common > PAYDAY 2 > assets > mod_overrides

2- 

BLT Installation (Requires BLT HOOK)


Put the the folders below in the mods folder (Steam > SteamApps > Common PAYDAY 2 > mods)
'PokemonHUD Crime.net BLT'
'Clean gamelobby'(originally made by Luffy and was allowed to add to this mod)

In any other case: 
Drag and drop the files from the zip archive into your mods folder within your Payday 2 Directory.

Thanks to AJValentine for this video